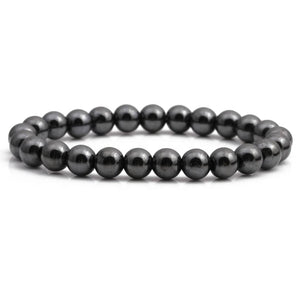 Pure Hematite Bracelet
Regular price $29.95 Sale
We'll plant 30 trees when you buy this 🌳
The Hematite Stone is also known as the "stone of the mind". It grounds and protects the wearer. This stone enhances our connection with the earth, making us feel secure. It harmonizes one's energies, bringing about peace and balance. It also heightens confidence, will power, and self-esteem.

Giveably offers all-natural stones, given to us by Mother Earth. So as we receive, we give back. Every single dollar you spend at Giveably plants a tree. Our way of showing gratitude to our planet.

Click ADD TO CART to purchase the Pure Hematite Bracelet and plant trees without even looking at a single shovel. Win for you, win for the earth.


PRODUCT SPECIFICATIONS
Bracelet size: 7.5 inch (19cm) one-size-fits-all stretch fit
Beads size: 8mm

Care Guide: All Giveably bracelets are made to the highest standards of quality. When wearing and removing the bracelet, roll the bracelet to let it easily slip onto or off the wrist. Avoid stretching the band to its maximum capacity to prevent breakage.

Shipping
Our products are shipped direct from our warehouse in Jacksonville, Florida via USPS. Most orders are received within seven business days. Shipping may take longer during the busy holiday season.
Returns

Every order is covered by our 60 Day 100% satisfaction guarantee. We know you'll love your stuff, but if you need to exchange or return, simply holler at us within 60 days of the date you received it. We got you!

How can I track my order?


Once your order is packed for shipping you'll receive an email. This email contains your unique tracking link. If you didn't get an email, or you need any other help, just let us know.

How can I get help?
Either
submit a request via our contact page
, ping us on the messenger chat below, or email directly to help@giveably.org
How does Giveably give back?
It's really simple. You buy cool jewelry, we plant a tree for every single dollar you spend in store. That's it. Job done. Planet saved.
Why do you do this?

TREES ARE AWESOME. They trap our carbon and provide us with fresh air to breathe. PLUS who doesn't like sipping on a cold drink under the shade of a nice leafy oak or poplar?
How do you do it?

On the 1st of January each year, in the middle of the pitch black cold night (while everyone else is drinking booze and celebrating new-years), we pack up our tree planting kit, along with all the seeds and saplings that we've collected for everyone that year, and we head off on our long, lonely trek to the mountains. We find just the right spot, not too warm, not too cold. Not to high, not too low. Not too bright, not too dark. Then we carefully dig the perfect hole for each little baby tree. One by one we softly place them in, then cover them up tightly with soil and sprinkle them each with seven drops of water that's been blessed by forest elves.
Well, that's how we used to do it. But we realized that we could only get through 4 or 5 trees a year that way and things were getting a bit busy.
So, we partnered with Trees For The Future - a fantastic organization that's passionate about making a big difference to the environment and helping those less fortunate. And now they plant all our trees for us!
Find out more here.
What's Project Planet?

It's the next level, super awesome members club where you can help fight climate change. When you join you'll be helping plant 30 awesome, carbon trapping, climate loving trees every single month. On top of the amazing feeling you get from that, we also let you pick a super cool gift each month (worth $40) to say thanks. To join Project Planet or learn more about it
click here
.
Disclaimer:

Any information that may be found anywhere on this site is not presented as a substitute, nor intended to be a substitute for medical advice, treatment or diagnosis.

Never disregard advice from your medical professional or delay seeking medical advice because of anything you may have read on Giveably.org.